Long time no TV fan jewelry, eh??? Thanks to Mrs. Bliss that's all about to change. She LOVES Sherlock! Shhh… don't tell her husband. Though, I'm guessing this is probably not a secret. We all have our TV show loves, right? (Hey there, Raylon Gibbons *seductive wink* fancy a bourbon sometime?) Actually, now that I'm thinking about it, Mrs. Bliss did not specify a special love for Sherlock the man, per se, but the TV show.
IRREGARDLESS!!! <—– yes, intentional
I took it upon myself to scope out the BBC merchandise shop. Did you know they offer a Monty Python watch?


It's not nearly as cool as I would want a Monty Python watch to be.
Unfortunately for Sherlock fans, the BBC sells only tweed items.


Yo, BBC, I don't want to be Sherlock, I want to wear his pretty face around my wrist. Like a talisman to remind me that the dog not barking means something. What exactly, I can't remember. So off to Etsy I go!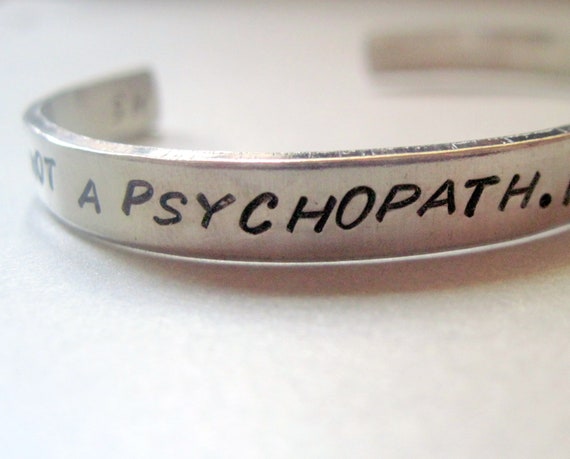 Ha ha! Remember this Sherlockism? I am not a psychopath. Uh huh. Just a high functioning sociopath, right? If I hear that pick-up line one more time…Emery Drive made this hand stamped cuff. I feel like I'm cheating a little with this one. It's so similar to my favorite Buffy Grrrr Argghh cuff from my TV and Jewelry post. But I love the "I'm not a psychopath"! What else could offer so little comfort?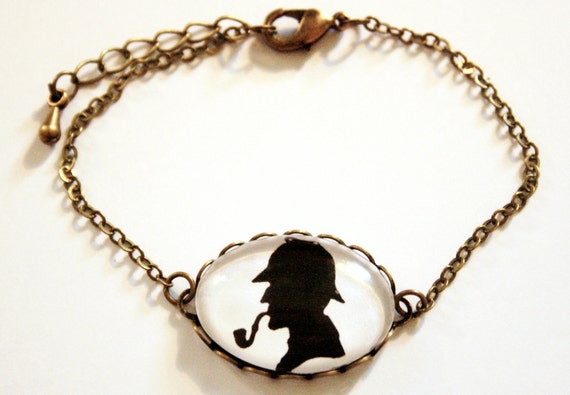 Now this Sherlock silhouette by Karamboola is not our Sherlock. I like the cameo style of it, however. Wouldn't it be great with the two silhouettes of our Sherlock and our Watson facing each other? You are welcome to the idea, Sherlock cameo bracelet makers of the world. Because, who is Sherlock without Watson? A lonely man, that's who.
Which brings me to my favorite of the Etsy selection. Best Friends Forever, like Sherlock and Watson, need a symbol of their devoted friendship. In lieu of the traditional two-pieces-of-the-same-heart best friends charm necklace, let me propose this pair of cuffs.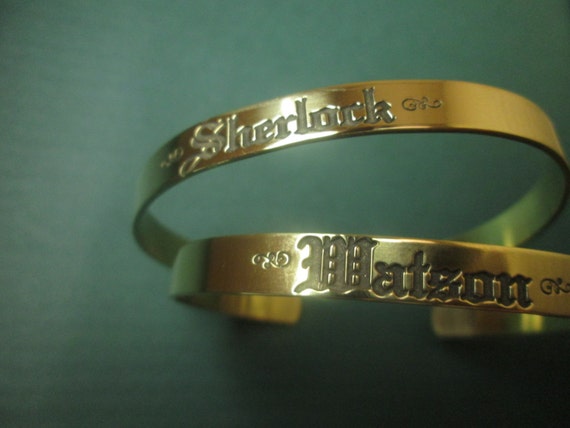 Won't you be my Watson? This saying will be all over the friendship Valentine's next February. Just you wait and see. Until then, remember that Sherlock solves crimes and I blog about them. Well, me and Watson both.