This is a hodge podge of a theme, inspired by Heart Shaped Box. Because I am sentimental and it's a beautiful song.
Where were you when you heard Kurt Cobain died? If you answer "just a twinkle in my parents eyes", then you don't know, man. You don't know. You don't know about the pervasive cult of Nirvana. For example, school dances played Smells Like Teen Spirit multiple times per night. You try dancing to that! It's just not possible. No wonder I didn't kiss a boy until I was 16. I wasn't even a late bloomer, I was a regular bloomer. Don't feel too sorry for me on the kissing front, tho, I more than made up for it.
So I didn't even *like* grunge music. I was more of an R&B kind of girl. And Oldies, I loved the Oldies. But I was sprawled across the backseat of my dad's car, the radio on while we drove somewhere when the DJ cut in to tell us of Kurt Cobain's death. I was 14, just about to turn 15. Like Jon Snow, I knew nothing. Kurt Cobain seemed hecka old. Nirvana had been around since forever, right? I'm telling you, I knew nothing of time or life or death or art. Nothing.
Now here I am twenty years later, sentimentally listening to the gloomiest genre of music ever. I didn't even like grunge then, but I like it now. It means something to me. I've been drawn into the magnet tar-pit trap of nostalgia.

Looks like the jewelry designer Isabel Marant is similarly sentimental. This line is called Nevermind. I will go out on a limb and guess is she 37 years old. If Nevermind is her go to Nirvana album I know without a shadow of a doubt that she is two years older then me. I know it!

This here is part of her Nirvana collection.
Oops. I just googled her, and though her age is impossible to find it seems she's solidly in her mid forties. Tant pis. Her Frenchness throws off the sophisticated algorithm of age deduced by Nirvana album preference. Personally, my favorite is In Utero.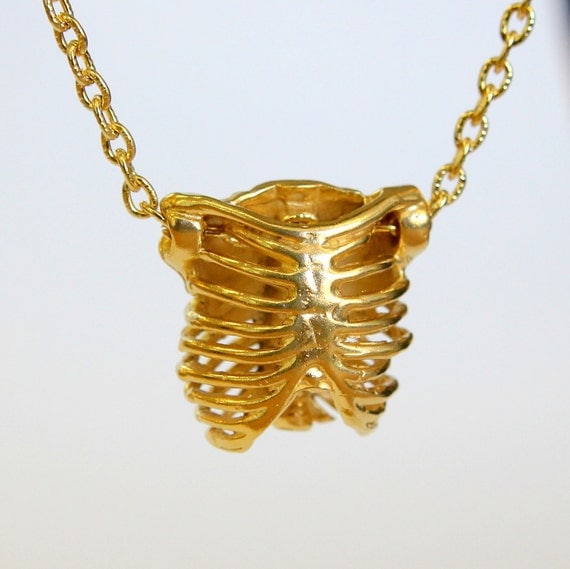 In an effort to find some jewelry inspired by the female torso that graces the cover of In Utero I came across this very cool rib cage pendant by mrd74. My accident, besides almost killing me, primarily crushed my chest. I broke all my ribs, punctured both my lungs, and sported a trio of chest tubes. So I have much respect for the structure of the human rib cage, it is remarkable. We're made of so much jelly! Fortunately, complicated architecture protects our softest parts. What can I say? She eyes me like a Pisces when I'm weak. What does that even MEAN??? I don't know.
Quick topic change: Who's now in the mood for some coffee? Coffee is soooo 90s, isn't it?