#15 VERY GIFTED: GIFT IDEAS
Gift ideas for:
*the Knitter
*the Needlepointer
*the Perfectionist
In my effort to be an 85 year old 35 year old, I needlepoint. I knit. I wear nightgowns with pockets (pockets are good for kleenexes), I enjoy watching the BBC. And I know I am not alone. Hey you crafter makers out there! And spouses or children or siblings of crafter makers out there! I have some gift ideas for you.

First of all, some guidelines for shopping for us crafters. We love new supplies! But we also love ideas. Most of us belong to Ravelry but so… to shop for your knitting gift receiver pick up some yarn from the local knitting store. Don't be overwhelmed by the selection, pick some color or size that you think is pretty. My local store is super helpful and if yours is anything like it, they will ask about the project ideas and recommend quantities of yarn for the project. For the idea? Voila! Here is the link for the pattern above See Mi Knit's pattern.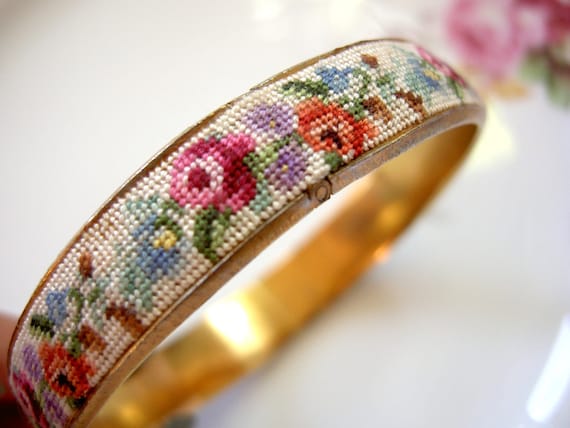 Ideally you would find a needlepoint bracelet bangle KIT for your beloved needlepointer. But the only ones I could find sucked big time. I guess you could swap out thread (floche) colors to improve them but lacking that, I recommend this Etsy vintage find. I would wear this and claim I had made it myself. Then I would feel bad and attempt to make an identical one.
For the perfectionist crafter, we gotta talk Martha Stewart.
http://www.marthastewart.com/250669/wool-bangles#907485
You've got to do some legwork here. Look at the various Martha Stewart project videos. Pick a style you like, find basket, pickup the required supplies, stuff the supplies and a bottle of nice wine into the basket, then type up a pretty card with the URL hand written in it for her reference. VOILA you too channeled your inner Martha making something special.
The daily disclaimer: I would be remiss if I didn't offer the link to my online store… I write these posts for my love of jewelry and gift giving, there's no sponsors here but ME for MYSELF 😀