The Walking Dead: I wish I could quit you!!!
Actually, I don't wish that at all. Last week's episode was brutal but here I am, anxiously awaiting another hour in the Georgian Zombie Apocalypse. Though maybe they aren't in Georgia anymore? My geography is horrible. Anything I write will just insult any Southern Readers and maybe the mid-Westerners too. See?? It's horrible.

Who else is watching tonight? Who's going to die and tear our hearts out??? Anybody got some guesses but not spoilers? I hope the preacher finally meets his maker.

Under what rock have I been that I didn't realize The Walking Dead comes back in FIVE DAYS! First I found a quarter and now this! Everything is going my way today.
Today's bangles: black Clic-Clac, two little Native American cuffs of mine from back in the day, my lucky figa charm bracelet, and the Fontaine de Bartholdi skinny bangle.
The other day I asked Dora about her second favorite TV show because her first favorite is The Walking Dead, and I've already sought out zombie jewelry about twelve times now. Here I found the disappointing branded Walking Dead store, here I covered all things zombie and here I took down the MAN in my TWD, Sex Ed Fail post.
Maybe we can admit two things straight off the bat. First, I am prone to exaggeration. Second, I've probably beaten the zombie bracelet theme to death. Unfortunately for you all, it then rose from the dead and bit me ONE MORE TIME. Because, guess what? Dora and I both love TWD that much! I'm throwing Sup Darling under the wheels of the zombie bus as well. How's that for human remains in the exhaust pipe, huh? Whatchu got to say about that?!
First up, what the fresh noise is this thing that Rick's holding??


I found it on the Craufthaus website, made by a Rebecca Rose. I don't know about you, but to me this looks an awful lot like a Walking Dead scene atop a ring. Which is kind of awesome.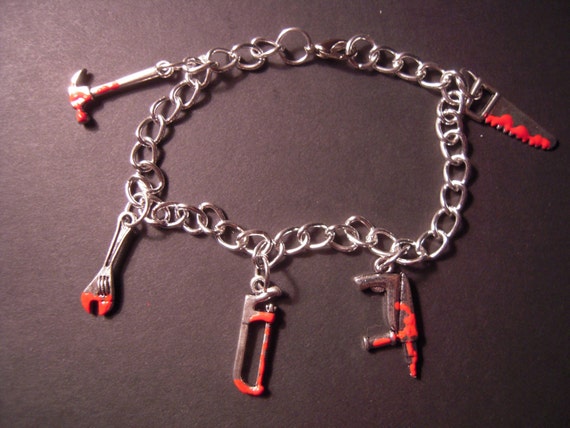 Now, I've showcased some zombie charm bracelets before but this one is different in that it is significantly bloodier. MM hmm blood. Made by Antonis Art Asylum on Etsy. Talk about dedication to authenticity! But wait.. shouldn't these tools be covered in blackish green blood if they were used on the zombies… um?? Are these tools from the Governor's toolbox?
Ahem. Moving onwards!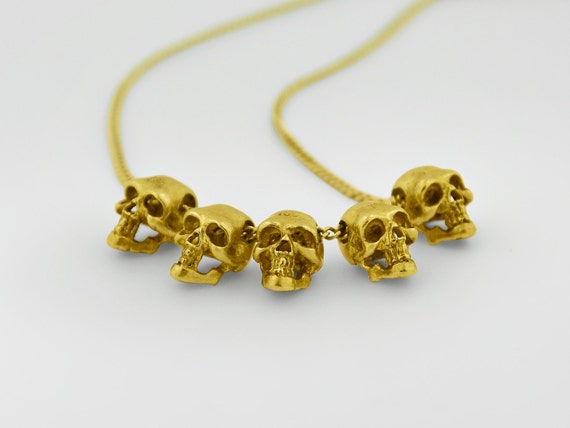 I want a five gold skull trophy bracelet! Emphasis on 'skull trophy' not 'trophy bracelet'. I guess technically, this is a necklace but I'm sure we can contact Starta, the designer, maybe he would hook a fellow zombiephile up? He should for the amount of money these gold skulls cost. I'd like to point out his TWD necklace is on display right next to his cuddly teddy bear charm necklace. Watch your back, Teddy. Don't say I didn't warn you.

OMG even Polyvore is getting in on the zombie hookups. This skulls and skins brings a little bit of skull to that classy bracelet collection of yours. Or mine.
There you have it, there is no bottom to the zombie/jewelry pit. Please enjoy the view of all the skulls while we free fall thru this together. Just a quick aside: I'm writing this while listening to some MJ, and I just realized Man in the Mirror is the Governor's jam. Make that change. Or not. Shamo.